Empathy Map Canvas: A Guide to Understand the Customers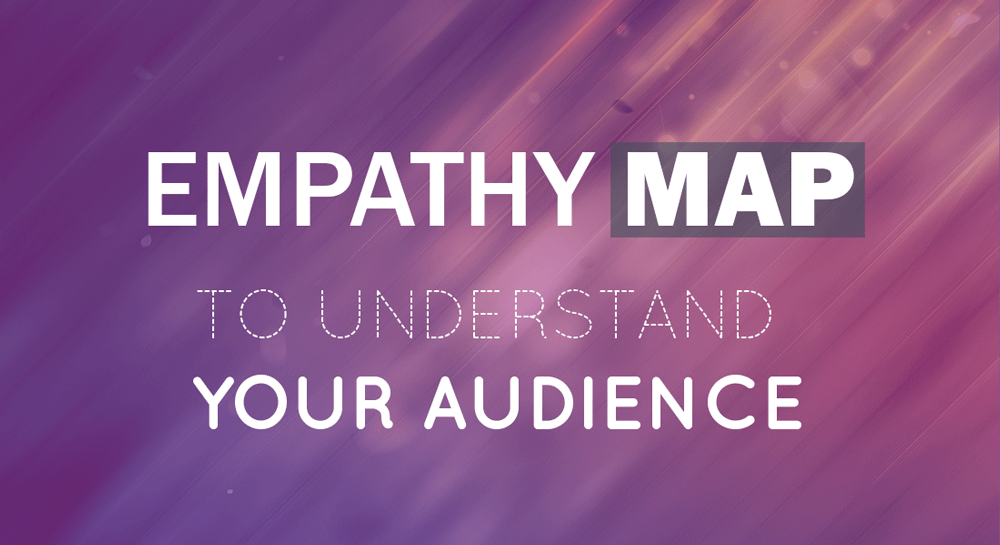 Customer understanding is the cornerstone of marketing today. If you do not have the correct information about your customers, you can not develop a good sales strategy. Customer understanding is an important issue which most business founders undertake.Empathy Map Canvas is a tool that helps you understand your customers.
Who is the Customer?
Customer is one of those seemingly simple concepts that few people look for its meaning. The customer is generally referred to as the "person or company that purchases the goods and services." However, the customer concept is much more complicated than it looks at first glance.
First of all, the customer is a human being, with his own desires, fears, and needs. If you see your customer from this perspective, you can obtain a deeper insight. Customers are influenced by those around them, family, friends, and their environment. In addition, their feelings and concerns affect their choice in purchasing. So if you want to be successful in business, you need to know your customer and enter into a relationship with them as human beings.
Learn more: Marketing Strategies for Startups
What Is Customer Persona Design?
A persona is a clear hypothetical image of a person (and sometimes a business) who can be your ideal customer, audience, or buyer. This image should be applicable to a significant number of customers, audiences, or buyers.
Customer persona, on the other hand, is seeing the customer as a human being, knowing his surroundings, and understanding his desires and fears.
Designing the Customer persona is the first essential element of marketing strategies, and the customer understanding helps us in this regard.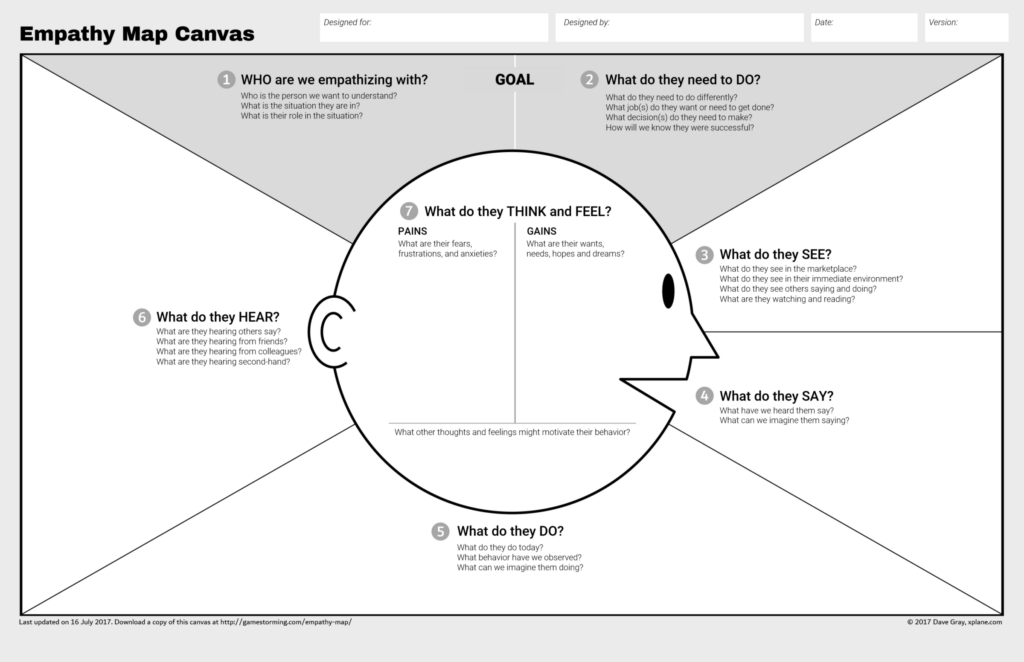 Understanding Customers Via Empathy Map Canvas
Empathy Map Canvas is a tool to understand customers,provided by XPLANE Company. Using this tool, you can easily obtain customer characteristics. Of course, its uniqueness lies in the fact that it operates beyond demographic characteristics such as living area or income level.
Empathy Map Canvas actually provides a better understanding of the environment, behavior, concerns, and desires of the customer. This map makes it easier for us to identify potential customers.
Benefits of Knowing the Customer with Empathy Map Canvas
Using Empathy Map Canvas, you can design a stronger business model.
By correctly identifying customer characteristics, you can more easily process your unique value proposition design.
Knowledge of customer characteristics will also help you in marketing and advertising.
With the right knowledge, you can choose the most appropriate channels to communicate with potential customers.
Consider your relationship with your customers as just a relationship between two people and strive to create, maintain and strengthen it accordingly. This is Francis Butel advise in his book," Customer Relationship Management:"
So knowing the customer helps to strengthen this relationship.
Most importantly, the map allows you to determine what the customer is really willing to pay for.
All these help you to attract people more efficiently and turn them into your loyal customers.
Empathy Map Canvas Components
After a few years of presenting Empathy Map Canvas by his company, XPLANE, Dave Gary started to collaborate with Alexander Straulder, creator of "Business Model Boom". This collaboration led him to have a better view of the Empathy Map Canvas and revise it in 2017. This article reviews the revised Empathy Map Canvas.
Empathy Map Canvas consists of three components. It is recommended that you complete this map as we describe here.
These three parts include the following:
1. Customer profile
2. Customer attitude based on the surroundings and the environment
3. The customer's personal thoughts and feelings
The Ultimate Goal of Using Empathy Map Canvas
The primary purpose is always to sell products and services. Thus, the focus in all parts of the Empathy Map Canvas should be around this main goal.
Part One: Customer Profiles
In this section, we deal with the general characteristics of the customers:
Who is the customer?
What is the customer's social status?
What role does he/she play in a family?
Where does he/she live?
What's his/her job?
And questions like these related to customers' sociological characteristics. In addition, you should specify the activity or services they need.
In general, we can say that "customer profile" provides an overview of your customer and consists of several parts:
WHO Are We Emphasizing With?
In this section, you should specify the customer you need to know. To do this, try to summarize his position and his role in that position.
The general sociological characteristics are usually enough. However, it's better to register the person's name to help you communicate better.
The questions below can help you in this section:
1.Who is the person you want to get to know?
2.What is his position?
3.What is his role in this position?
What Do They Need to DO?
In this section, you should know what their definition of success is. For example, if they need to go on a date, do they see the success in getting to the place on time?
Understanding this will help you focus more on the customer in the other parts of the Empathy Map Canvas.
Remember, you are not going to sell them anything at this stage. You just need to focus on their needs. Your company may have a product or service that meets their needs. However, you shouldn't try to sell it at this stage.
These questions will help you in this section:
1.What activity or work does he need or want to do?
2.What does the customer need to do in a new way?
3.What decisions should be made to do it?
4.How do you know the customer has succeeded in doing this?
Part 2: Customer Attitude Based on the Surroundings and the Environment
When we look at the customer as a human being, the surrounding community and environment will undoubtedly significantly impact his decisions.
Nowadays, customers 'trust in people's opinions and previous users of a product or service is much higher than companies' advertisements.
What Do They SEE?
Describe what the customer sees in their surroundings. This includes the people he sees during the day and their activities.
Consider what influences him during the day, what the market offers him, and so on.
Even زonsider the things that annoy him.
Just remember that you have to see the world from the customer's point of view. You probably think your product and marketing is better than others. So you may ignore other brands. That's why you shouldn't look at this issue from your point of view.
These questions can help in this section:
1.Who is around him?
2.What does he see or read during the day?
3.What products does the customer see in the market? (Similar products to us)
4.What are offers made to him during the day?
What Do They SAY?
This section and the next one are interconnected and deal with customer behavior in the community. A person may say something but do the opposite when it comes to action.
You must pay enough attention to these contradictions to design your service or product.
For example, people talk about helping others, but they may not stick to it in practice.
We need to see what customers say to their friends and relatives about their interests as well as things they say to other people around them.
What Do They DO?
Keep track of your customer's daily activities and behaviors by focusing on your product or service. What are they doing now to meet their needs? How consistent are these actions with their words?
The following questions may help you:
What are they doing today?
Does what they do match what they say?
What Do They HEAR?
Describe how people around affect the customer.
With the advent of social media, people rely on the advice of people around them and previous buyers of products more than advertising. So are our customers. What those around them say during the day has a significant impact on their purchasing decisions.
Consider their friends, family, and co-workers, as well as the social networks they use and the bloggers who influence them on a topic related to a product or service similar to yours. What might customers hear from them?
These questions may help you along the way:
What do they hear from their friends and family?
What do they hear from their colleagues?
Who really influences them, and how?
What media channels influence them the most?
Part Three : The Customer's Thoughts and Feelings
In the third part, you need to pay attention to the customer's feelings and thoughts:
1.What are his aspirations and goals?
2.What are his fears and mental barriers?
3.What might motivate him to do what we want him to do?
His Fears and Mental Barriers
In this part, you have to think about what prevents him from doing a job or fulfilling a need or makes him think that he lacks the necessary capabilities.
Questions like these may help:
1.What risks is he afraid to take?
2.What are his mental barriers? 
3.What Destructive thoughts he has when making a choice?
4.What makes him anxious or worried about making decisions?
5.What is the failure from his perspective?
The Customer's Goals and Aspirations
The whole point here is your customer's wishes and goals. You should focus on how the customer evaluates his success and when he feels he is successful.
Think of ways in which he can achieve his goals and aspirations.
These questions can be helpful:
What are his goals and aspirations?
What does the customer really want or need to achieve?
How does he measure success in achieving these goals?
What strategies does he have to achieve his goals?
How and when he feel good?
What are the other feelings and thoughts that can motivate him?
How to Motivate Him Do What We Want Him to Do?
In this section, we list the items that motivate the customer. We also focus on things that the customer has not thought about.
In fact, the main question in this section is what else, that the customer has not thought about, can motivate him to do the work we want.
Empathy Map Canvas Analysis
So far, you have managed to complete an Empathy Map Canvas. This map contains basic information you need. Now you and your team's role in using the information is highly critical.
You need to see if this new information gives you new insights about your customers and products. Show the canvas to the other team members after the initial correction. Ask them to investigate the tips about the customer behaviors that you haven't included is your list..
Keep in mind that this canvas is for getting to know your target customers. Therefore, exclude any Irrelevant information before analyzing.
---