Best Free WordPress Page Template To Design Your Site as You Desire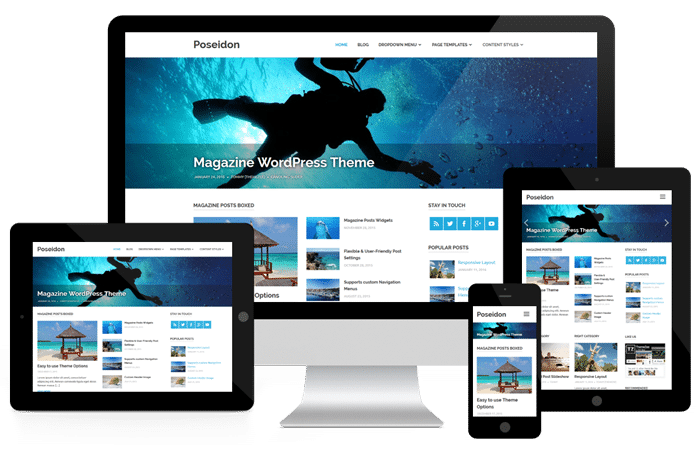 WordPress is used to create a variety of websites. But it is the WordPress page template that determines the type of user. For example, if you are building news, or have an online store, each of which requires a specific kind of template. However, There are thousands of WordPress templates in various domestic and foreign stores, and this wide variety may confuse users in choosing the most suitable one. Follow SOJECT to get acquired with 12 free WordPress page templates.
WordPress Theme Requirements:
Choosing a suitable template based on SEO and security principles is the first step in building a user-friendly site. However, features of a good template include responsiveness and personalization. High speed is also a critical factor when choosing a template. Some templates may look nice at first, but they may slow down your website.
Best Free WordPress Page Template:
Divi template
Divi has a built-in drag and drop builder that helps you create unique designs. This template is one of the most popular ones in the market and allows non-expert users to design their site professionally without coding. Divi developer is one of the leading and famous plug-in stores called Elegant.
Divi has a default editor that lets you drag and drop all the elements you need to create what you want.
You can also use 20 prefabricated designs to start building your new project quickly.
This template also has a child theme.
Divi lets you save your favorite layouts to your Divi library, so you can use them again later if needed.
Ultra Template
Similar to Divi, Ultra uses a built-in drag and drop mechanism to make everything easier for users. This unique template belongs to Themify. In brief, Ultra is highly flexible and powerful.
Using this theme, you no longer have to pay to customize your website. You can implement your desired design without any coding.
Ultra has 15 headers/page styles, 6 Shapely background header options, 6 footer layouts, 5 post layouts, 6 archive/navigation layouts, and more.
In addition, it has 60 pre-designed layouts that you can find in its library. They are made by professional designers and you can even change them and save them again in the library.
Shapely Template
Shapely is a great, versatile, and free WordPress template. This retina-ready mold is responsive and has a flat design. Shapely favorably supports many popular WordPress plugins. You can use this template for business, landing page, portfolio display, e-commerce, or any other type of website.
Total Template
Total is a delicate and beautiful WordPress template that interestingly uses the parallax effect. This free WordPress theme has all the features a web designer needs to build a complete site. This template is compatible with SEO, various browsers, and ready to translate in different languages. Total is compatible with almost all famous plugins.
NewsMag Template
NewsMag is a beautiful and modern template that is mainly used for news sites and blogs. This template is flexible, and you can implement a suitable design according to your taste. NewsMag is optimized for search engines and does not slow down your website. Some of its customizable elements include background colors, fonts, sliders, and widgets.
Sydney Template
Sydney is a powerful business template in WordPress. This template is responsive and has a translation option for different languages. It also uses WordPress Customizer, which allows you to customize various site elements to your liking. This template gives you several customization options such as Google fonts, custom colors, layout control, logo upload, page sliders, and more.
Flash Template
Flash is a versatile and free WordPress template with a beautiful design and powerful features. This template is fully responsive and gives you a lot of customization settings. Using Flash, you can create any website to your liking. Flash is suitable for business, blog, portfolio display, landing page, or any other application.
Hestia Template
Hestia is a beautiful and versatile template. This template has a clean and attractive appearance and is compatible with store extensions such as WooCommerce. This free WordPress theme is mobile-responsive and highly compatible with various browsers. Also, Hestia lets you customize almost anything with a live preview at any time.
Suffice Template
Suffice is a versatile and highly flexible WordPress template. It has a delicate, beautiful, flexible design and compelling features. Suffice is easily customized and suitable for beginners. This template uses the best SEO methods to improve the performance of your site. Also, multiple widgets and simple drag and drop features will help you to create your desired design.
Zerif Lite Template
Zerif Lite is a multipurpose one-page WordPress template with an interactive interface, colorful interfaces, and a stunning design. It is perfect for web design agencies, corporate businesses, personal portfolios, and photography sites.
Hueman Template
Hueman is a great versatile WordPress template. It is fully responsive and is available in countless colors. This free WordPress theme lets you add custom widgets. Hueman supports multilingual translations and is suitable for a variety of blogs and magazines.
Illdy Template
Illdy is a fully responsive single-page template and is well compatible with mobile screens. You can use this template for a business website, landing page, portfolio display, or another creative website.
However, if you are interested in learning more about WordPress, we recommend reading the following articles:
The Disadvantages of Using WordPress
Four Best WordPress SEO plugins
---