SERP Features in 2021, a Complete Guide

On a summer afternoon while quarantined at home, if you wonder how old Nicole Kidman is, it's perfectly normal! To get your answer, you do not have to go to any books. It is enough to ask Google to solve your problem in a fraction of a second. Once you write the question "How old is Nicole Kidman?" and click on the search bottom, Google shows you her age in bold fonts. Have you ever wondered how the Google search engine works? Ever heard of a concept called SERP? Join us to describe one of the essential elements of search engines.
What Is SERP, and What Does It Stand for?
Of all the search engines, including Yahoo, Bing, and Baidu, Google is arguably the most popular and helpful search engine among companies and businesses worldwide. That is why in this article, we will examine the SERP and its features in Google.
 This search engine is always trying to provide the best features and results for users. So rest assured that Google does its best to cover all aspects of the answer when you ask it a question. It performs the results by displaying a page of relevant websites, photos, videos, and more. This page is called SERP, which stands for Search Engine Results Page.
Learn more: Who Is a Technical SEO Specialist? Job Description and Duties
How Is SERP or The Results Page Created?
When you google a word, Google performs a few activities in half a second to find the result you need. These activities consist of three steps:
Checking websites
Listing reviewed websites
Matching the indexed websites with the keyword
The word you enter in the search field means "keyword" to Google, which is why it searches for it on thousands of different websites!
Years ago, the SEO strategy of many sites was limited to building large volumes of backlinks and overuse of keywords. Still, with the development of Google algorithms and the introduction of semantic search, the story changed. Google did its best to use keywords to understand the main intentions of the user.
In fact, Google indexes hundreds of websites that contain the keyword and interrogates them in the next step! In the title, name, meta, and content of the websites, it looks for the keyword and its synonyms, examines how many times the keyword has been repeated, and pays attention to the quality of the sites and their backlinks. Among these factors, the most important for Google is content and backlinks.
Backlinks are links that direct people from other websites to your website. Taking all these factors into account, Google ranks each website and shows it on the results page or SERP. Only in a fraction of a second!
For this ranking, each search engine has its algorithm. These algorithms are formulas that specify the classification of websites on the results page. As Google changes its algorithms from time to time, keep your knowledge up-to-date to keep your website on the first page of SERP.
Learn more: Four Best WordPress SEO plugins
What Are the SERP Features in Google?
As we said before, Google's most significant goal is to provide the most desirable and valuable features for users. That's why it is constantly changing, updating, testing, and improving its features. In general, we can say that SERP features or search engine results pages features lead the user to the desired answer sooner or display additional information related to the search topic. In other words, These features show more results in addition to organic (natural) search.
What Are Organic Search Results?
Following the search for each keyword, Google completes the three steps mentioned above to display the top 10 websites in SERP (unless you have changed the number of websites per page in the settings.)
These results are known as organic or natural results, the result you get after searching on google. In contrast to organic results are monetary (advertising) results placed in the Google AdWords service section. These websites rank at the top and sometimes at the bottom for a fee for specific keywords. Some paid websites are very similar in appearance to organic websites, and a typical user usually does not distinguish them from each other.
If you remember, that summer afternoon, when you asked Google about Nicole Kidman's age, Google displayed the answer in a large box at the top of the first page. What you saw was definitely monetary (advertising) results, not an organic one. So as you can see, SERP features get users to respond faster and reduce the hassle of a few clicks.
What Are SERP Features?
A few years ago, the Google results page was not so crowded. SERP only includes organic and paid results (ads). But with the advent of new features, the results page has become diverse and functional.
Let's get acquainted with SERP features:
Google Ads and Google Shopping
Rich Snippets
Featured Snippets
Comprehensive results (In-Depth Article)
Knowledge Graph
Pictures
video
Related Questions
News Box
Site-links
Google Ads and Google Shopping
In 2001, Google launched new advertising websites using the AdWords system (now Google Ads). Although a small Ad sign with a different colour is visible next to the websites' name, many users do not know that they are clicking on advertised websites. Thus, using this method, many websites have become popular in recent years. Think for a moment! Without following SEO rules and implementing the Google algorithms, only for a fee, your website can show up on the first page of SERP. It's amazing! That's why many business owners pay money to advertise their sites.
Google Ads and Google Shopping are based on PPC, which stands for Pay Per Click. Every time users click on these promotional websites, a fee is charged to Google. This method is also cost-effective for business owners. Suppose each click costs $ 3. If for every ten people who click on the link, the site can earn $300 by selling, the site profit will be $ 270.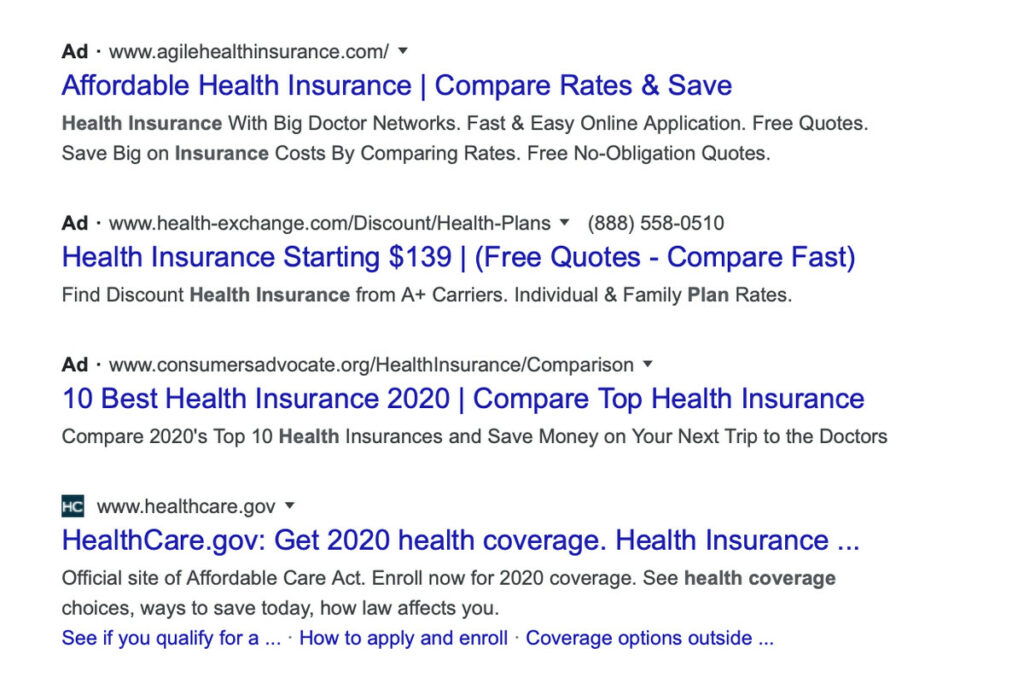 Rich Snippet
SERP organic results consist of three sections: title, name and meta description. However, if you look closely, some websites show more information. They have used rich snippets in the site's HTML code to increase their site traffic.
By providing more helpful information to users in the SERP, such as site popularity, food calorie, cooking time, etc., rich snippets increase site traffic, help SEO, and as a result, get a higher ranking from Google.
Learn more: Gray Hat SEO + 9 Gray Hat SEO Technique

Featured Snippets
Google has an interesting and helpful approach to answer the questions: Featured Snippets.
These snippets are extracted from the websites that provide the best answer to the user's question and are displayed in the zero position at the top of the SERP. Therefore, we may assume websites in positions 1 to 5 of the first page have a better chance to show up as Featured Snippets. However, on January 23, 2020, Google informed users of the latest changes it has made:
If the page info is selected as a Featured Snippet and placed at the top of the page, we will no longer show that website on the results page. This eliminates irrelevant results and helps the user to access related results quickly. Featured snippets are one of the ten results displayed on the page.
Well, we can draw two conclusions from this Google message.
Firstly, websites can not take two positions (organic result and Featured Snippets) on the results page. Therefore, a website whose information is used as a Featured Snippet no longer has a place in the SERP.
Secondly, there is no such thing as a zero position anymore, and the Featured Snippets occupy the first position in SERP.
You will usually see one Featured Snippet on the results page. It is rare for Google to select two websites to display their information.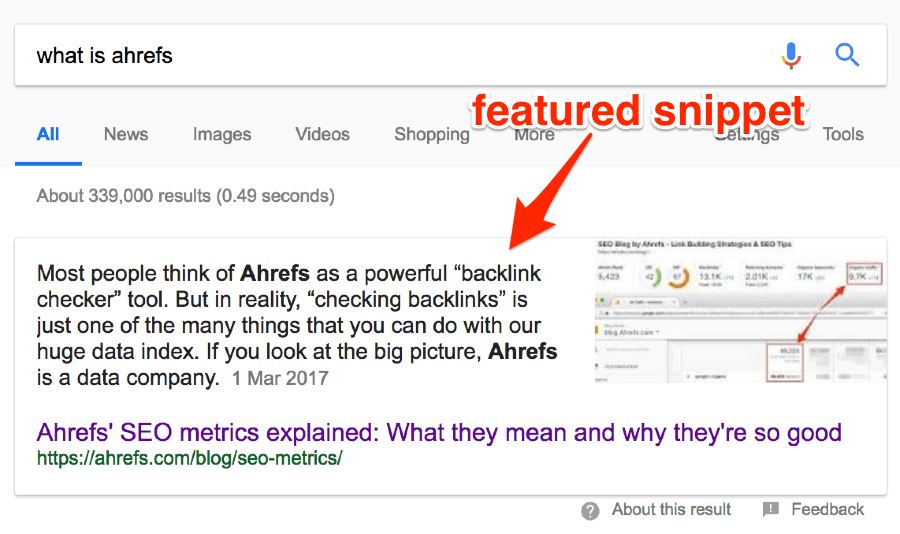 Comprehensive Results
When the search topic is very comprehensive, Google shows you a triple package of websites compiled by authors and authoring sources at the bottom of the results page or SERP. Although it is difficult to distinguish them from organic results, ranking them has a different process than organic results.
Knowledge Graph
A knowledge graph is a collection of information gathered around a subject, including people, places, companies, and so on. In other words, Google answers all your possible questions by considering all aspects of the keyword and displays it in the form of a knowledge panel or knowledge graph in the right-hand column of organic results.
Now let's ask Google about famous German scientist Albert Einstein. Just Google his name.
In the image below, you can see the graph of Einstein's knowledge, which, in addition to his brief biography, introduces books, quotes, and people who are somehow related to him. All this information is collected in the knowledge graph and displayed in the knowledge panel.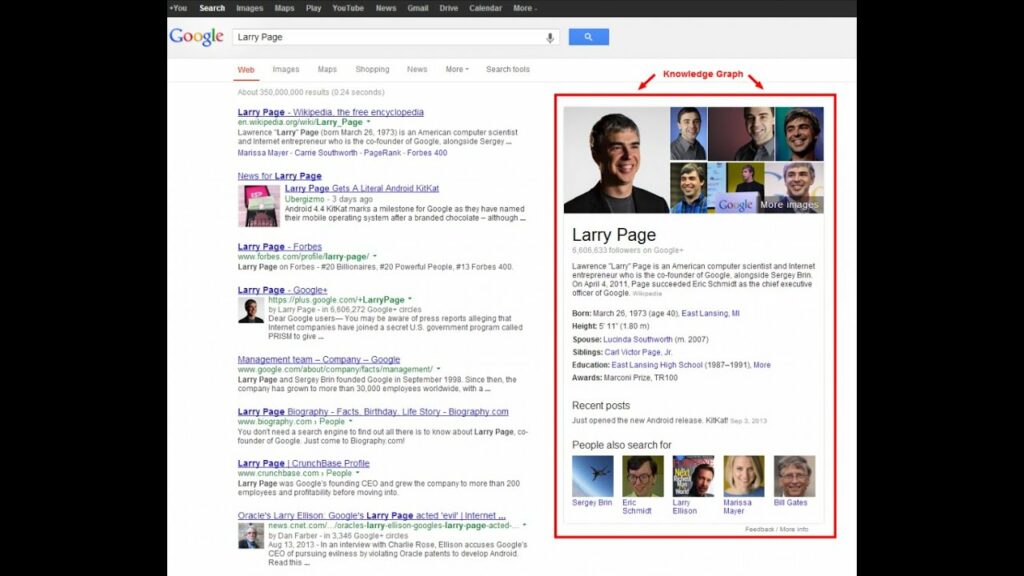 Pictures
For some of the topics that Google thinks displaying images helps users find their answers better, it shows a row of related photos. The rules for ranking these images, like comprehensive results, are different from organic ones.
Video
Videos used to appear in a vertical column next to the results. But now, they are part of the organic results and are located in a small section next to the meta and tag. Videos, the primary source of which is YouTube, appear only for specific and limited keywords.
Related Questions
These are questions that the search engine identifies as relevant to the user's topic. These questions, entitled "People also ask", may appear on any part of the page. Clicking on any question reveals the answer, which can itself be a Featured Snippet. Currently, this section is only for keywords and resources in the English language.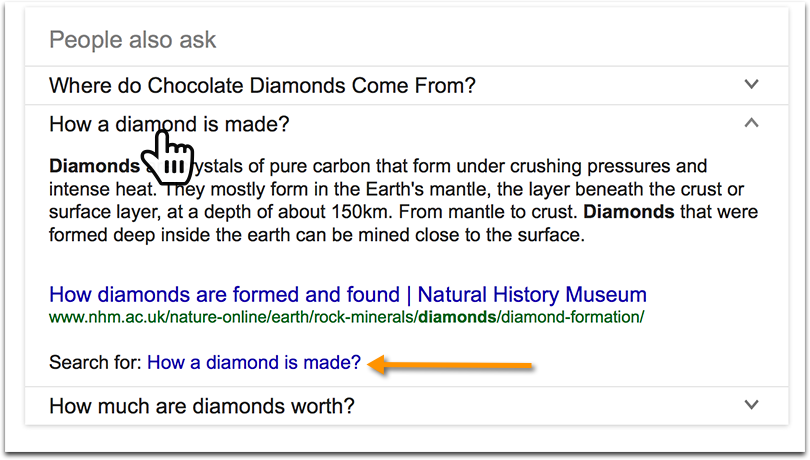 Newsbox
At certain times and topics that there is a lot of news about, Google shows users a bunch of results taken from Google News. The algorithm for placing in the news box and ranking them is entirely different from the organic results.
Site Links
If you are looking for a specific website and search it on Google, in addition to the title, name and meta of that website, Google will show you several (maximum 10) links at the bottom of the meta description. This makes the user reach the desired result faster and without the need to search within the website and increases the site traffic. Every ten link site displayed takes the place of five organic results in the SERP.
According to Google, if the website structure does not allow Google algorithms to find links to appropriate sites or Google does not recognize that the site links are relevant, the site will not show users a link to that website.
---