Gamification: How It works for your business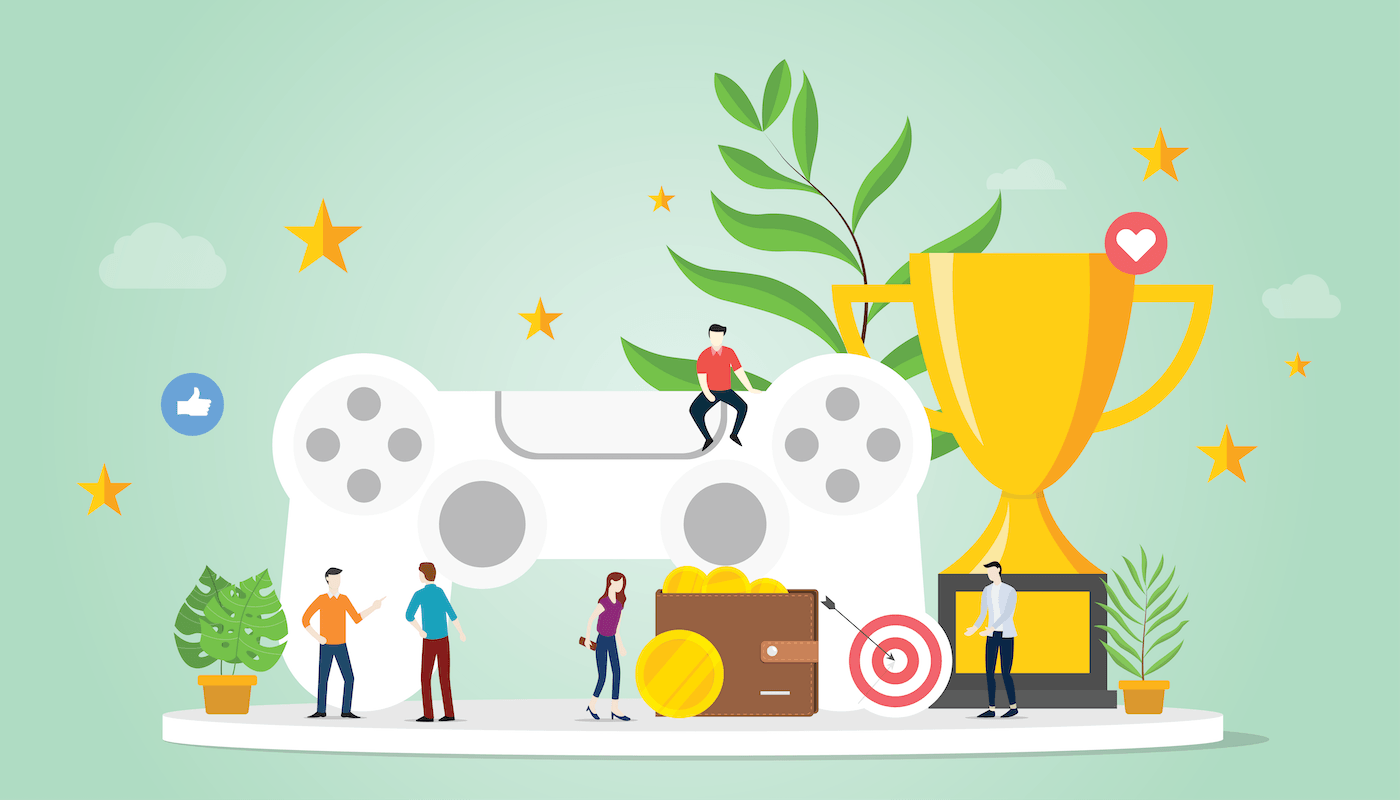 From when humans became human until now, many games have been created to respond to various social needs. Sports games were created primarily to maintain fitness and health, and later to prevent war and bloodshed.
For example, board games such as chess were used to train soldiers in military and war strategy, or ancient games such as "knuckles" were used to entertain people and engage them during famines.
Many games are still used today for education, training, and treatment. But is it possible to put game capabilities into something that is not a game?
The answer is yes, and the solution is Gamification that we are going to talk about here.
What is Gamification?
Simply put, gamification means:
The use of game elements (e.g., point scoring, competition, rules of play) for improvement of something that is not inherently game.
Gamification allows users to earn rewards for everyday activities such as buying movie tickets or ordering pizza. To understand how it works, we should know the general elements of a game:
Motivation: items such as coins, points, etc.
Competitiveness
Reward
Empowerment
Interaction
Is gamification the same as game design?
Game development describes building a real game – something that people enjoy, while gamification uses game elements to engage the audience to the content and is essentially business marketing.
The most successful gamification in the world
America's Army website is designed by the US Army to be used as a recruiting tool. Those interested can download the game for free and test their strategic skills to see if they are suitable to serve in the US military.
Of course, a virtual game is entirely different from a real battlefield. But this gamification has two purposes:
US Army Marketing
Encourage new people to join the army
This very simple game that turned into a useful advertisement tool for M & M. M & M's Eye-Spy Pretzel increased the number of likes on the M & M official Facebook page to 25,000, page shares to 6,000, and comments to 10,000.
In this game, the user finds a Pretzel hidden among the M & M chocolates.
Even if it seems childish, 'ChoreWars' is an excellent tool for increasing workplace motivation, especially for tedious tasks. With the help of this tool, you can turn everyday tasks into an exciting competition.
Starbucks – My Starbucks Rewards
Starbucks is one of the companies known for loyalty and commitment to its customer.'My Starbucks Rewards' is an example of this. After registering, the customer gets a star for each purchase, with which he/she can later get a free drink. The game has three stages that can be passed according to the level of loyalty. My Starbucks Rewards is a simple bonus game that is a great marketing tool.
How to use gamification to improve the business?
Using scoring systems on your website or app will always attract more audiences. People constantly want to get more points and deductions. Users spend more time on your software or site to earn more points and get more discounts.
Watching promotional videos is one of these ways. In this way, you will earn more money through advertising, and on the other hand, you will boost your software popularity.
Launching a contest and challenge is one of the most effective ways to get users' attention. Competitions are exciting for most people, and on the other hand, winning a prize is a tempting motivation to participate in games. All you should do is mentioning that a site/app account is required for entering the contest. Then wait for new users to join your site/app.
Wheel of fortune falls into this category.
Consider a discount or more extra points scoring for the site's first use.
One of the most challenging tasks is to keep new users. One way to do this is to allocate a discount or more extra points for the site's first use. This promotion should have a time limit to encourage users to stay on the site.
All the discount codes for the first order on various websites are based on this principle.
Support for Environmental Personalisation
Users love personalization. Personalization gives them the feeling that the system cares about them. If a customer is always visiting a specific type of content, it is best to design the system based on User Preferences. It is also a good idea to offer discounts and promotional videos related to what the user usually sees.
---