15 Free Video Conferencing Software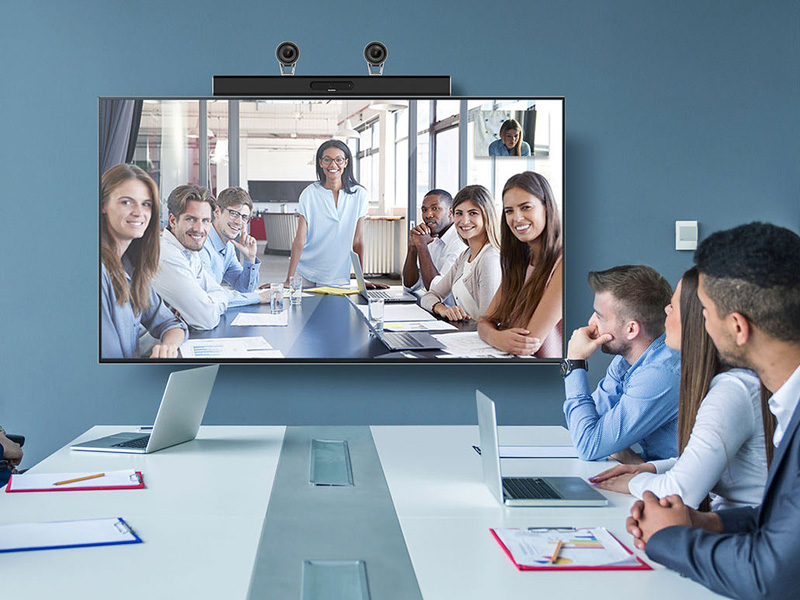 Telecommunication history
Human beings have taken interesting initiatives to communicate with people who were far away from time immemorial—for example, sending messages to others by lighting fires on a hill or through birds. Gradually, with the postal system's appearance, people used letters to communicate with each other. A little while later, with the telephone's advent, a significant change in telecommunications took place. Through these technologies, people could easily talk to each other live at any time. After a while, with the invention of the radio and television and then the Internet, along with voice and video calls, distance education was also raised. The relentless advancement of telecommunications technology has now reached video conferencing, and of course, it will not be the endpoint.
SOJECT is one of the leading companies in the field of video conferencing software. Contact us if you want to produce personalized software in this area.
Technology and the global telecommunication
With the advent of new means of communication, the human way of life, including work and education, changed dramatically. Using these new methods, individuals could expand their professional and financial capabilities from local geography to a national and global scope in a short time and at a low cost. The process began with the telephone and telegraph and then reached the everyday use of radio and television in offices and homes. Telecommunications culminated with the birth of the Internet. With the help of these voice and video calling tools – including video conferencing software – human society could provide the education process, with a quality similar to face-to-face training, in remote or deprived areas virtually.
Internet and related applications
With the global expansion of the Internet and the global village's birth, educational programs and communications took on a new form. Nowadays, many business meetings, gatherings, screenings of movies and theaters, economic activities such as purchasing goods and services, and even support services are online. The new coronavirus has also fueled this situation, making virtual activities more pervasive through various software, including video conferencing.
Elite people, who can not physically participate in the world's scientific centers for various reasons, such as physical disabilities or long distances, or even lack of financial ability, can provide their educational services to people worldwide or participate in appropriate training courses.
There are currently various Internet telecommunications software and video conferencing applications based on different operating systems, such as iOS, Android, and Windows.
This article introduces and reviews some of this software.
Imo messenger video conferencing app
Imo is a simple application for conducting virtual conversations and video conferencing. This app is available for free on different operating systems, including iOS.
One of the Emo's advantages is that it works well with low-speed internet, a feature not found in many competing messengers.
Using this software, you can set up a conference room and hold video conferences with a maximum of 20 people. Sending high-quality documents and videos is another emo feature.
Skype video conferencing application
Skype is one of the best video conferencing software for making video calls on all platforms. The capacity to use Skype on different operating systems is one of the most valuable advantages of Skype, making it one of the best options for making cross-platform video calls.
Using this software, you can simultaneously hold a video conference with up to 25 people. The app also supports text chat. You can also sync your Google and Microsoft account with Skype.
However, Skype keeps audios, videos, and other documents for up to 30 days, after which time the files will not be accessible. This is one of the defects of this software that hinders it from being a reliable messenger. That's why Skype is more suitable for video conferencing than sending and storing information.
WhatsApp
WhatsApp is one of the most widely used applications in the world. This software is one of the few applications with more than one billion active users. WhatsApp started as a text chat service and underwent massive changes after Facebook bought the messengers.
The app currently supports voice and video calling in addition to many other features. Video calling works well on WhatsApp, and you probably won't have any problems using it.
However, the number of people who can participate in your video conference is not more than 8. This number was limited to four people before, but recently in the new version of this application has reached eight.
WhatsApp uses signal technology. In recent weeks, the app has asked its users to agree to share their information with Facebook. This information includes location, phone numbers, etc. This new WhatsApp term of using caused many reactions worldwide and made many users migrate to other messengers. This has caused WhatsApp to delay implementing its new terms of use.
One of the software that many WhatsApp immigrants moved to is Signal, which we will introduce more here.
Google Dou video conferencing app
Google Dou is Google's achievement in video calling applications and has a similar approach to the FaceTime application. This application allows video chat between 8 people. Furthermore, users can see a preview of themselves before answering the video call.
Google Dou is available for Android and iOS users and does not require another add-on, and only the contact number of users is sufficient.
FaceTime
FaceTime is an Apple video calling application that only runs on its devices. It is available for mobile phones and Mac OS Snow Leopard. FaceTime runs on any IOS device with a front-facing camera and any Mac computer with a camera.
FaceTime lets you easily make video calls to other FaceTime users. The system uses a front-facing digital camera on compatible devices to display the caller and the recipient's images.
FaceTime calls can be made between FaceTime compatible devices, such as the iPhone 8 to iPhone X, from Mac to iPhone, or from Apple to iPod Touch. The devices do not need to be of the same model or type to use this software.
Unlike some other video apps, FaceTime only supports one-on-one calls and does not support group calls and video conferencing.
On January 29, 2019, a report published on Facebook claimed a security flaw: The caller could receive the other party's voice and video even before the other party answered the phone. Following this report, Apple also confirmed this security flaw and temporarily disabled the application on iPhones.
Roundee (browser-based)
Roundee is one of the best choices for office meetings. This software offers video conferencing, along with the ability to take notes.
You can record audio and video files of meetings – up to an hour – and share them with others. Of course, some other popular video conferencing software such as Skype also offers this possibility. However, in Roundee, the online meeting file is available for three months, while this time is limited to one month for Skype.
One of the exciting features of Roundee is the ability to take notes by pressing Alt + N. By using this feature, participants can take notes while attending the meeting and share them with others.
In order to establish a video conference in this software, it is necessary to invite the individuals- up to six people – through an invitation link.
You can share the screen during the sessions and also share various documents.
Jitsi Meet (web-based, Android, iOS)
One of the best free video conferencing software
Jitsi Meet is a simple, easy, and perhaps the best video conferencing service.
You do not need to register to use Jitsi, and you can create a video chat room in no time. Then share the URL with others to join, and set a password if you want your room to be private. Jitsi has many exciting features, including video recording in Dropbox. The service is also compatible with YouTube, and you can watch a live video from YouTube along with other video conferencing members. The conference moderator has more authority, such as silencing a person or hiding them from other conference members.
ezTalks meeting
ezTalks meeting is a professional software in the video conferencing field that even allows you to host online meetings in HD quality. Using ezTalks, 30 people can attend the meeting at the same time. Furthermore, participants' numbers can be increased to 100 people for free, but there is a limit of 40 minutes for each participant to attend the meeting. However, by paying for each host on a monthly basis, you can take advantage of this software's unique features.
ezTalks meeting has features such as playback and recording videos and audios to find the information you lost during the session to review them again.
This software's available features include easy group audio-video chat, using the whiteboard and two-way interaction, recording and replaying the session.
MeetingBurner video conferencing tool
MeetingBurner is a useful tool for holding online meetings. It is also a good option for holding virtual conferences and sharing computer screens. With this software, you can analyze the connection and save images with one click. Although the free version of this service has limited features; the convenient user interface has made Meeting Burner one of the most popular online video conferencingservices.
You do not need to download the software to hold online meetings. You can also share your screen with others, and it is possible to record meetings.
In order to use premium features, you have to utilize the premium version by paying a monthly fee of $ 100.
Adobe connect
This online training software is one of Adobe's products designed to hold online conferences as video conferencing software. This reliable app is top-rated. Of course, this reception is not due to the higher quality than the competitors, but more because of Adobe products' reputation and their user-friendliness.
Adobe Connect has features such as voice and video chat, whiteboard, content sharing, meetings recording, questions and answers, etc.
Big blue button video conferencing app
Open-source software for virtual education, providing online content, organizing classes or face-to-face meetings. You need at least one Linux virtual server (Ubuntu 16.04) to run Big Blue Button.
The software supports a variety of languages. All the features you need for your training class are gathered in a complete but straightforward and advanced big blue button set so that you can access the world of teaching and learning with the push of a button.
VidyoCloud
VidyoCloud is a leading American company in communication technology that offers virtual communication software and equipment. It can fix errors related to network disconnection and insecure communication lines. This software can adapt to a 20% drop in cellular or wireless networks. Most companies do not have a specific internet network, so VidyoCloud – as video conferencing software – allows you to establish very high-quality video communicati
---