Software Project Development Prices Worldwide: A Guide for Software Outsourcing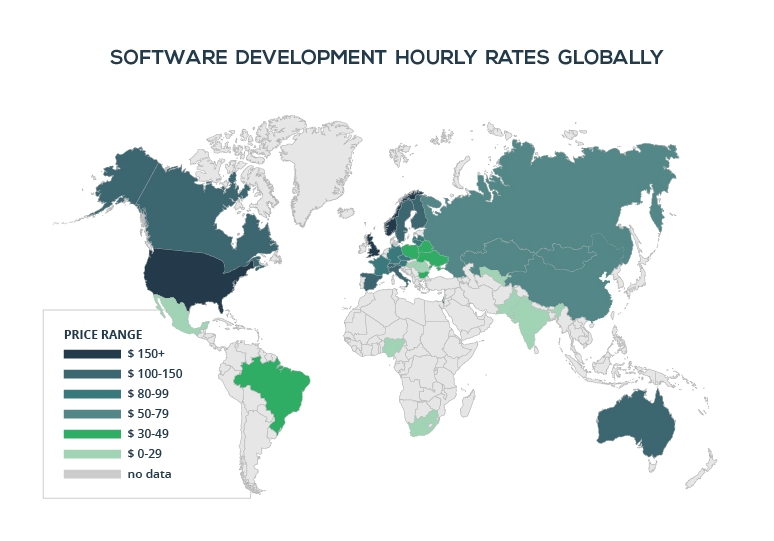 If you have decided to outsource, knowing worldwide software project development prices is very important. The prices and quality of software projects in your resident may not be what you desire. In this situation, outsourcing software to other countries is a wise solution. To do the best outsourcing, you need to be aware of software project development prices around the world.
Last year, software outsourcing earned $ 135.5 billion. Although this number is very significant, experts anticipate increasing with the onset of the coronavirus crisis in recent years. Many business owners prefer to reduce face-to-face meetings at work due to health concerns. This strategy leads to increased teleworking and outsourcing. Once the software development process has changed from face-to-face, it no longer matters where in the world it is. Software project development prices worldwide are the primary determinant of software outsourcing.
Outsourcing software to low-cost foreign companies can reduce start-ups' costs by 20 to 25 percent. Of course, the outsourcing site's work quality is also paramount. For more information about the outsourcing process, read the following article:
Know more: Software Projects Outsourcing Steps and conditions
For this reason, this article examines software project development prices in the region of the world that offer good software quality.
Factors affecting software project development prices
Before moving on to software project development prices, we should note that even within a country, the price you pay to produce software varies. This difference is rooted in several factors, some of which we will examine:
Developers Experience: Of course, the more experience your contracting party has, the more you have to pay, which of course, you acknowledge is fair.
Company or a freelancer: As companies offer more warranty, they usually ask for a higher price. This safety may be beyond what a freelancer can guarantee. However, if you are satisfied with the freelancer's performance, based on your previous joint work history, what is better than this? Pay less money!
Contract duration: Usually, long-term software project development contract prices are less than cross-sectional types. This is because freelancers and programming companies are usually willing to sign a long-term contract.
Tech stack: The programming language, the technology used, and the prevalence of that technology affect the cost of software project development. Developers of iOS-based software usually make more money than Android. Prevalence technologies such as Go or Swift are typically associated with higher prices.
For this reason, the prices we have presented in this article are not a single price tag. It is a range of low prices and a range of high prices to make you capable of better decisions.
Cost of software project development in hours
Outsourcing prices vary widely in different parts of the world. We tried to determine the costs in popular countries and areas that are worthwhile for outsourcing but are less known.
To provide a more accurate classification, we first look at the outsourcing prices on-shore, which means the USA and Western European countries, including the UK, Germany, France, and the Nordics.
On-shore outsourcing
Software project development prices are relatively high in these regions. And more importantly, prices may vary significantly from city to city or from state to state. High prices are because these countries usually have a higher level of welfare, and consequently, a higher living cost. That's why developers here get more money from the same programmers around the world.
The range of software project development prices in these areas is $ 50 to $ 200 per hour. If you want a reasonable and quality contract, you have to spend around $ 100 per hour.
This type of outsourcing has its advantages and disadvantages. Indeed, the burden is that you have to pay a lot of money. But the benefits are the same language and culture, a closer time zone and more comfortable travel. If you have a legal issue, it is easier to deal with here.
Offshore outsourcing and software project development prices
India, China, Pakistan, and the Philippines are some of the most popular countries for software outsourcing if you are looking for low prices in the opposite hemisphere. The most popular one is India. $ 15 to $ 30 per hour and an average of $ 25 per hour are the prices offered by the developers of these countries.
The advantage of this type of outsourcing is low software project development prices. However, low quality is what awaits you. Communication, cultural and language problems are issues that make outsourcing more difficult.
However, some companies find the right human capital, invest in them, and, through training, turn them into a robust, low-cost workforce.
Also, some business owners outsource minor software tasks to these companies and freelancers.
South Africa, Nigeria, and Kenya are among the new destinations for software outsourcing. These countries are not yet top-rated and well known. Nevertheless, they offer good services for a low cost. However, the important thing is that you should not expect excellent service.
Nearshore outsourcing
Nearshore can vary depending on where you live. However, depending on your business location, South America, Mexico, Canada, Eastern European, and Post-Soviet countries are considered Nearshore options.
Despite cultural differences, time zones, and long distances, these countries are trendy for Americans' software outsourcing. That is because software project development prices are reasonable, and they offer considerable quality. The average salary of developers in Nearshore ranges from $ 20 to $ 50 per hour, with an average of $ 35 per hour.
Eastern European countries, including Ukraine, Belarus, and Poland, and especially Ukraine, are a great outsourcing destination for Americans. Of course, we should note that the mentioned countries' prices are very different.
Given Ukraine's numerous advantages for outsourcing, here are some of the benefits:
Ukraine pros as a software outsourcing destination
Ukraine is one of the countries with the best cost-quality ratio in software production. The country's talent pool of software developers is the second-largest one among Eastern European countries.
The main advantages of software outsourcing to this country are as follows:
In general, Ukraine is cheaper than other European countries. In this country, software project development prices are about $ 25 to $ 50 per hour, which is less than in Poland. However, neighboring countries often lack the quality of Ukrainian software.
According to reports from international forums, Ukrainian programmers are ranked sixth globally. Local universities spend a lot of money to train specialists in this field. Most graduates can speak English well. Ukrainians generally do not receive much money and act responsibly and selflessly in their work.
As we said, the developers of this country are ranked sixth in the world. They examine the matter in depth to provide high quality.
Its location is not far from most European countries. Although it is about a third to a quarter of a day away from the United States, meetings are still possible.
How to choose the right country according to software project development prices?
Choosing the best country for outsourcing is challenging, especially if you do not have experience in this field. However, if you follow essential tips step by step, you can hope to outsource your project with the least risk and the best quality.
Prices
If you have financial constraints, prices are the essential element to consider. Regarding the costs, you can specify the destination region. For example, if you can not pay more than $ 20 per hour, you have no choice other than to choose India and similar countries. But if you can afford it, you may search Nearshore.
Furthermore, you can ask several developers around the world about the software project development prices to choose the best country.
Quality
Although it is tempting to pay less, your business's damage due to low quality is not reimbursable. To prevent this, search for the region you choose to find a company or freelancer that offers acceptable work quality.
Use Google to search among companies. Visit their website, see portfolios and talk to site administrators. Also, one of the most useful things you can do is reaching out to their customers. Ask them if they are satisfied with the quality of work. How much did they pay for software project development? And other similar questions.
Of course, you have to consider what country the customer is from and what quality of work he has in mind.
Time difference
Although the time zone may not seem like a big deal initially, working long-term with a team 12 hours apart is not easy.
Cultural issues
Apart from communication issues, you may find something beautiful while that is looking ugly to people on the other side of the world and vice versa. This is especially problematic in UI design. Differences in languages can also be an obstacle to effective communication leading to cultural issues and misunderstandings.
To reduce these problems, see the portfolio to understand their tastes. It is also essential to choose a company that can communicate well in the initial conversations in terms of the conversation's language.
Pay attention to this conventional wisdom: Buy cheaply, and you will pay dearly.
According to research by Deloitte, low prices are still important, but so is the quality of work.
After reviewing software project development prices, consider your expectations and what so that you can choose the best business partner. See what a minimum of quality will suffice for you.
SOJECT Software project development company
We at SOJECT are ready to manage your software projects. We combine experience with taste and deliver it to you in the form of unique software.
Contact us through this site for more information
---