Pros and Cons of Telecommuting, Why Coronavirus Related Lockdown Is not the Sole Reason for Working Remotely?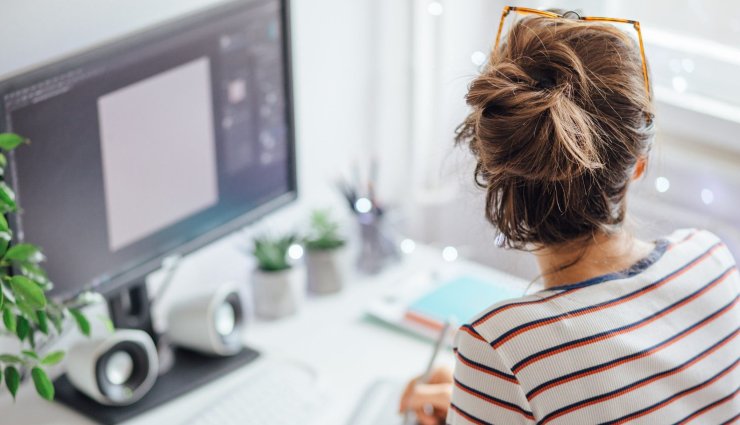 The Coronavirus epidemic made almost all companies around the world send their employees home. This factor created a historic opportunity for telecommuting. With the spreading of telecommuting, many managers discovered when employees are not present in the office, they can still be productive and even work more effectively than in the office. But what are the Pros and Cons of Telecommuting, and why should we forget about traditional methods and turn to telecommute in the future? Follow SOJECT to introduce you to the pros and cons of telecommuting.
Pros of telecommuting:
Creating a better balance between work and life
Teleworkers can usually start and finish work at any time. Of course, there are exceptions, but in general, flexibility in time and place is a feature of telecommuting. This flexibility allows people to strike the right balance between work and personal life.
They can be with their family when needed and postpone their work to another time when necessary. They do not have to take hourly leave or constantly worry about their family.
Working at home makes it easier for you to take care of your children, get medical advice or even attend your favourite fitness classes. A blessing that ordinary employees do not enjoy.
Most people who work in offices have to take time each day to get to and from work. When we consider the total number of working days, we find that we spend a lot of time on these trips.
According to the Auto Insurance Center in the United States, those who work in face-to-face jobs spend about 100 hours a year commuting to and from work and 41 hours in traffic. Some people who work farther from home spend much more time each day (such as 90 minutes or more) going to or from work.
The problem with commuting to work is not just the spitting of time, but studies have shown that spending more than 30 minutes in traffic can lead to health problems. For example, high blood sugar and cholesterol, as well as an increased risk of depression, are possible consequences of waste of time in traffic.
When it comes to the disadvantages and disadvantages of telecommuting, eliminating extra travel can lead to better health habits. For example, sleeping a little more, eating a healthy breakfast, or having lunch with the family.
Location independence
Working remotely usually means you can do your job anywhere around the world. If you are a traveller, you can continue your work in travel.
Besides, you do not have to choose your place of residence based on your workplace. You can consider cheaper places to buy or rent a house.
This is especially true for people whose partner has a job that requires them to travel frequently. They can continue their previous careers without changing their company. However, in the recent past, these people were not able to find a suitable job.
One of the advantages of telecommuting is that it provides more job opportunities. This is because there is no limit to where to find work.
If you are an employer looking to hire a remote worker, this is precisely where you are looking for. SOJECT provides you telecommuting and professional human resources at reasonable prices.
Contact us for more information.
Access to a larger talent pool
These telecommuting benefits apply to employers. They can hire the right staff regardless of where the employees live.
Skilled labour is not easily found. If you as an employee are happy with just having the employees in your office, you have to choose among the people living in your city. This means selection restrictions.
Some companies tend to extend their business hours up to 24 hours a day, seven days a week. By hiring employees in different time zones and different parts of the world, it is possible to serve customers at all hours of the day to make more profit.
Helping vulnerable groups
Vulnerable groups may have a broad meaning. Here, we mean groups of people who can't exit the home and, on the other hand, need a steady job to make a living. People with disabilities, who have to care for patients, people who don't have enough income to spend on commuting, and people who need family support, are among them.
In general, we can say that the vulnerable groups can support themselves through telecommuting.
Less discrimination
Although discrimination is not theoretically acceptable anywhere, unfortunately, sexual, cultural, age, and religious judgment are still observed worldwide. This condition makes it difficult for many individuals to work.
One of the benefits of telecommuting is that it fades these judgments. Thus, people report feeling less discriminated against since the coronavirus-related telecommuting.
On the other hand, less discrimination creates a better spirit of cooperation between individuals and allows team members to work together in unison.
Cost savings
This benefit of remote working is for both the employee and the employer. As an employee, working from home will help you save more money. commuting, work suits, lunch out, bags, and shoes are just some of the costs.
On the other hand, hiring telecommuters also helps employers save a considerable amount of money. The extreme cost of office rent, equipment and utility bills, as well as staff transportation, are part of these costs.
You see, telecommuting is a win-win deal for both parties to reduce costs.
Well, I think we talked enough about the benefits of telecommuting. It is good to discuss its disadvantages to make a good balance in the pros and cons of telecommuting.
Cons of telecommuting
Coordinating things is not as easy as you think.
Despite all the advances in human communication over the past few years, telecommunications are still not a perfect alternative to a physical presence in the workplace.
Although teams whose members are fully telecommuting can simulate the workplace experience, there is always some small or big problem.
The ultimate solution to these problems is to have telecommuters constantly exchange new information among themselves according to a specific schedule. Companies with remote employees must have a particular plan to build a bridge between them. If you have a large communication gap between employees, it is likely that after a while, you will notice that some unnecessary work is being done in a loop while other parts of projects are not making significant progress.
Your friends' circle will get small.
Some of our best friends are the ones who once were our full-time co-workers. These are the people who bring excitement to the workplace. There is nothing more enjoyable than having a delicious lunch with your co-workers after a stressful week. As a telecommuter, you certainly will not have such opportunities.
However, remote working is sometimes a blessing; for example, when you want to focus on an important project, there is no co-worker to talk about last night's football match! But on the other hand, working at home, with no contact with people, makes you feel isolated. This con of telecommuting causes many remote workers to also work part-time in a café or library.
Distractions increase
Indeed, you do not have any co-worker at home, but this does not mean you are not distracted by anything. Telecommuting has its own distractions that vary from person to person. For example, a parent may prefer telecommuting to work in the office to care for their newborn baby. But being so close to a child may mean that they spend most of their time caring for their child instead of focusing on work.
Even single telecommuters struggle with long lists of distractions. You may be tempted to spend your time tidying up the house and washing dishes. Or even since no one is supervising your work, you may want to lie on the couch and surf the Internet. Distractions are everywhere, and if you are not in the official workplace, their number will double. That is why resisting them requires high self-esteem.
Increased distraction is one of the most important disadvantages of telecommuting.
Lack of amenities
Most companies provide welfare facilities for their employees. However, a telecommuter is typically deprived of these facilities. This is usually the same about insurance. However, insurance contracts have also been mentioned in most remote working policies in recent years. Telecommuters, like other employees, are members of the company and should benefit from insurance services.
Learn more: What Is a Remote Work Policy, and How to Define a Good One?
However, if the company you work for does not insure you as a freelancer, this is one of the worst telecommuting disadvantages for you.
High cost of purchasing tools
Although some companies pay for internet, laptops, computers and other equipment needed, this is not always true.
In many cases, freelancers are expected to provide the equipment and utilities they need. The cost of providing them varies from job to job. However, a laptop and its accessories, along with the internet, are unavoidable devices for telecommuting.
A Blurred Work-Life Balance
One of the disadvantages of telecommuting is a blurred work-life balance. As the people who work remotely usually define their place and time of work, they may postpone their tasks until late at night. This causes their minds to be busy during the day, and they do not provide quality work at night due to lack of time.
Also, they may think that they should always work. This is because they are always at their office: home!
To solve this telecommuting problem, people need to work at a specific time and place and avoid extending their working hours to the whole day.
SOJECT helps you enjoy the benefits of telecommuting
At SOJECT, we provide you with the people you want to work with remotely. Even if you need a complete team, we will make it for you. You do not have to spend your valuable time building a team.
We help you get the most out of telecommuting as an employer.
CLICK HERE FOR MORE INFORMATION
---